Sandy's Saddlery & Western Wear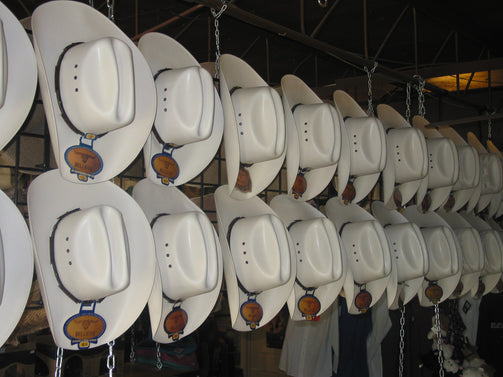 NOVEMBER SPECIAL
Get a free 25.0$ Gift Certificate with the purchase of every pair of Adult Cowboy Boots or Work Boots.
5452B MITCH OWENS RD., MANOTICK, ONTARIO, K4M1B2, (613) 692-4300
Your Country and Western Headquarters
Western Wear - Cowboy Hats - Western Boots - Wrangler Footwear - Jewellery - Giftware - English & Western Tack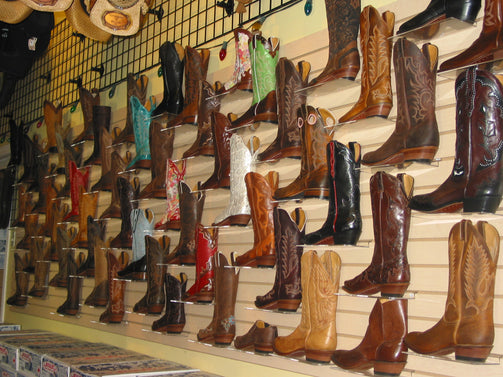 Sandy's Saddlery & Western Wear
Cowboy boots for men and ladies are our specialty. We have a large inventory of cowboy boots and ropers in stock.
Come see our selection of Old West for children of all ages!
Our customers have been asking for something different and we're listening.
Sandy's Saddlery & Western Wear has designed new styles of Western boots, some short, some tall, in different colours, for both men and ladies.
These new Western boot designs are coming in every month, exclusive only to Sandy's Saddlery & Western Wear.
Western wedding and party decorations, jewellery, giftware and accessories, for brides, grooms, attendants or any other Western event or back yard BBQ you may be attending. Come in to see our latest additions to Sandy's Saddlery & Western Wear.
Sandy's Saddlery & Western Wear offers a Leather Repair & Fabrication service for repairs of all leather products and material items including the following:
Cowboy boots, work boots, shoes etc.
Straps & Buckles
Horse equipment including clean horse blankets
Luggage & purses
Motorcycle accessories
All other speciality items you may want to have made
Bristol Biker & Jez Elite fine leather garments and accessories are available.
Sandy's Saddlery & Western Wear is now stocking fine genuine leather & suede jackets, vests, coats and accessories for men & ladies.
Customers can choose off our racks or custom order many choices of styles and colours of fine leather and suede jackets, coats, vests and pants which take approximately two weeks to make.
We also offer many styles for bikers in Bristol leather including nice easy to fit chaps and a large assortment of gloves.
Great gift idea for a loved one.
Drop in at our store and browse our new stock!!
SANDY'S SADDLERY
Your Country and Western Wear Headquarters
Sandy's Saddlery and Western Wear offers the largest stock of Cowboy Boots, Western Hats, And Western Wear In Ottawa And The Valley, including Exotic Boots
Along with all our English & Western horse tack and apparel we supply the concert lovers, competition riders, Western theme wedding parties, private and company parties with the largest stock of cowboy hats & boots, Wrangler Western wear and accessories.
We offer a nice selection of jewelry, giftware, leather products and a great leather repair and fabrication service.
"Wow", "Fantastic" or "What a beautiful store" are just some of the comments from our customers when they visit our store.
At Sandy's Saddlery and Western Wear, we try our utmost to make your visit a memorable, fun experience. Our store is very neat and organized, so allow yourself lots of time when you visit, because there is so much to see.
We take this opportunity to thank all our customers for your encouragement in the past and hope we'll have the opportunity to serve you in the future.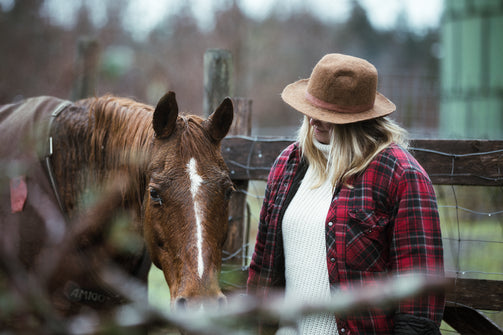 Cowboy Boots
Cowboy boots refer to a specific style of riding boot, historically worn by cowboys. They have a Cuban heel, rounded to pointed toe, high shaft, and, traditionally, no lacing. Cowboy boots are normally made from cowhide leather but are also sometimes made from "exotic" skins such as alligator, snake, or ostrich.
There are two basic styles of cowboy boots, western (or classic) and roper. The classic style is distinguished by a tall boot shaft, going to at least mid-calf, with an angled "cowboy" heel, usually over one inch high. A slightly lower, still angled, "walking" heel is also common. Although western boots can be customized with a wide variety of toe shapes, the classic design is a narrowed, usually pointed, toe.
The "roper" style, has a short boot shaft that stops above the ankle but before the middle of the calf, with a very low and squared-off "roper" heel, usually less than one inch high. Roper boots are usually made with rounded toes. The roper style is also manufactured in a lace-up design which often fits better around the ankle and is less likely to slip off.
One of the best known early bootmakers in the cattle ranching areas of Texas, Oklahoma, and Kansas during the cattle drive era of 1866-1884 was H. J. "Big Daddy Joe" Justin of Justin Boots in Spanish Fort, Texas and later Nocona, Texas.
Sandy's Saddlery offers several styles of cowboy boots and cowgirl boots from trusted boot companies such as Boulet, Canada West, Old West, and Justin Boots .
Cowboy Hats
The cowboy hat is a high-crowned, wide-brimmed hat best known as the defining piece of attire for the North American cowboy. Today it is worn by many people, and is particularly associated with ranch workers in the western and southern United States, western Canada and northern Mexico, with country-western singers, and for participants in the North American rodeo circuit. It is recognized around the world as part of Old West lore.
Cowboy hats can be worn in any corner of the world, and receive immediate recognition as part of North American cowboy culture. The first western model was the open-crowned "Boss of the Plains", designed and created in 1865 by J.B. Stetson. After that came the front-creased Carlsbad, destined to become "the" cowboy style. The high-crowned, wide-brimmed, soft-felt western hats that followed are intimately associated with the cowboy image.
Modern cowboy hats are made of fur-based felt, straw or leather, with a tall, rounded crown and a wide flat brim. They have a simple sweat band on the inside to stabilize the fit of the head, and usually a small decorative hat band on the outside of the crown. Hats are customized by creasing the crown and rolling the brim. Hats can be manufactured in virtually any color, but are most often seen in shades of beige, brown and black.
Sandy's Saddlery offers several styles of cowboy hats and cowgirl hats from Bullhide.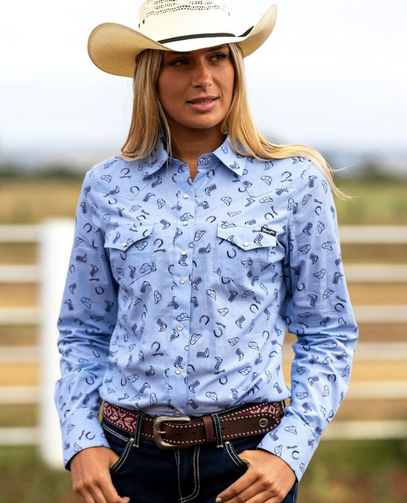 Western Wear
Western wear is a category of men's and women's clothing which derives its unique style from the clothes worn in the 19th-century American West. It ranges from accurate historical reproductions of pioneer, mountain man, Civil War, cowboy and vaquero clothing to the stylized garments popularized by singing cowboys such as Gene Autry and Roy Rogers in the 1940s and '50s. Western wear can be very informal, with a t-shirt and blue jeans forming a basic ensemble, or it may consist of tailored formal garments with western accents. At minimum, western wear generally incorporates a cowboy hat, a leather belt, and cowboy boots.
A Western shirt is a traditional item of Western Wear characterized by a stylized yoke on the front and on the back. It is generally constructed of denim or tartan fabric with long sleeves, and in modern form is sometimes seen with snap pockets, patches made from bandana fabric, and fringe.
In the early days of the Wild West trousers were made out of wool or canvas. This changed during the Gold Rush of the 1840s when denim overalls became popular among miners for their cheapness and breathability. Levi Strauss improved the design by adding copper rivets and by the 1870s this design was adopted by ranchers and cowboys. The original Levi's jeans were soon followed by other makers including Wrangler jeans and Lee Cooper.
Sandy's Saddlery offers several styles of Western Wear from trusted companies such as Bullhide, Boulet, and Wrangler.
Choosing a selection results in a full page refresh.
Press the space key then arrow keys to make a selection.